Alkaline is a tale of friendship, love and changes, looking at what happens when relationships cling on by a thread and if they are worth fighting for.
Sophie is marrying Nick and has invited a longtime, if distant friend Sarah and her boyfriend Ali along for drinks and a catch up. Oh and to inform Muslim convert Sarah that she doesn't hijab at her wedding.
The production continues on this awkward note. Sophie is casually Islamophobic, racist and slags off broken homes in front of the Muslim and recently separated Ali. Even the set is awkward, only 3 out of the four characters can sit down at any point and director Sarah Meadows blocking in Georgia de Grey's set leaves a lot to be desired.
Stephanie Martin is an experienced writer but I am left unsure what she is trying to say, the inclusion of a consultant in Iman Quari is admirable but I don't feel I learnt anything new about Islam, about these characters  and their relationship choosing to stage this play from the viewpoint of the unhappy Sophie whose issues are never resolved for the audience is a mistake it never recovers from.
The addition of Aleesha, Ali's ex-wife who uses their daughter's eating disorders to get his attention from Sarah serves as an unnecessary B plotline in this 75-minute play, the expected conflict between various characters never comes to pass.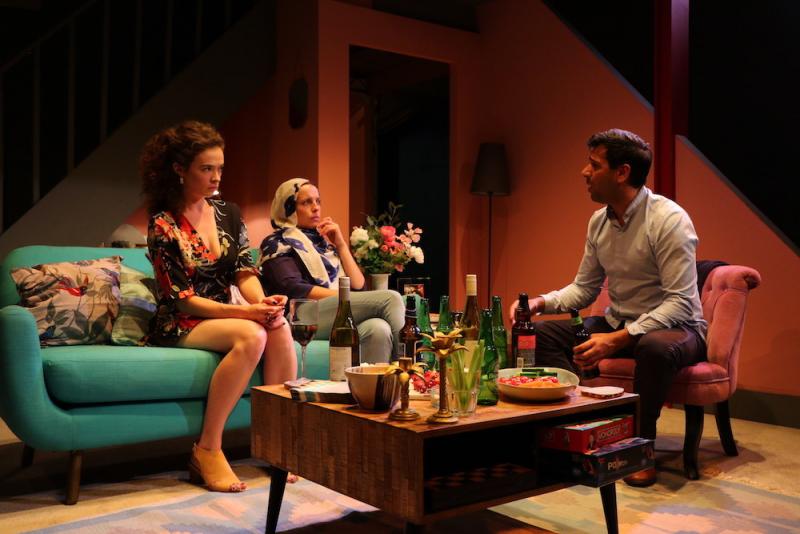 It is a real shame as there are great performances from Alan Mahon as the drug taking Nick who is losing patience with his fiance's low mood and politically incorrect comments, Clare Cartwright as Sarah whose conversion to Islam and love for Ali brings her peace and Nitin Kundra as Ali, a man conflicted by his love for his children and his happiness with Sarah but EJ Martin and Reena Lalbihari are let down by this production in their characters of Sophie and Aleesha, who are underdeveloped and just seem to bring a toxicity (Sophie's righteous speech about how easy it is to be liberal is a good point clumsily made) which is both irritating and at odds with the humour and warmth of the other characters combined with a lack of energy that seems to engulf the play. Forget Alkaline, this play is acidic.
Alkaline is on until 4 August https://www.parktheatre.co.uk/whats-on/alkaline