Review by Angel Belsey
Ah, Christmas. A time of twinkling lights, parcels wrapped up tight with ribbon, rosy red cheeks–and children delightedly racing out of school on their last day, ready to spend time home for the holidays, for days, endless days, days upon days upon days. Oh, the days you get to fill with your cheerful, squealing, screaming, screeching children. The hours, the minutes, the s e c o n d s.
The theatre is a great way to fill a small part of the void you face in the Christmas holidays. While you may be tempted to see a classic like The Nutcracker, you'll quickly learn that it sold out last August, so you could do worse than comfort yourself with Peppa Pig's Adventure: your kids can almost pretend that they are watching television, while you can almost pretend that you are contributing to their cultural education.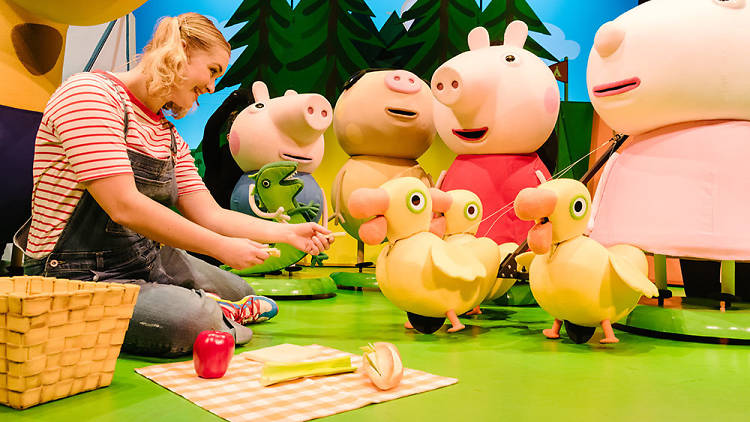 Peppa Pig's Adventure opens with Daisy, a human woman who has somehow nightmarishly apparated in a world of 3D cartoon farm animals, in a sort of reverse Metamorphosis for Trump's 2018. Daisy takes it on the chin, though, and settles comfortably into a game of hide-and-seek with Peppa's friends. This serves as an excellent icebreaker for the show to come: there is strong audience participation throughout and only the smoldering rubble of a 4th wall remains, with the children in the audience encouraged to sing along and to help Daisy, Peppa, and their friends throughout the performance.
The rest of Peppa Pig's Adventure is less a play with a coherent storyline and more a nonstop recitation of Peppa Pig's greatest hits: The Bing Bong Song, picnic ducks, Daddy Pig driving a bus, Mummy Pig's tangible disdain at having married down–and, of course, some muddy puddles provide an end-of-show surprise. In the Christmas show, Father Christmas also appears, and the entire audience joins in singing a Christmas carol. Yes, parents in the audience may be underwhelmed by the plot, not to mention shocked at the blatant abdication of responsibility shown by Madame Gazelle and the elder Pigs (they leave the children to be looked after by a strange human who has just turned up, and even let her share a tent overnight with George, who can't even talk? I have come to expect it from Mummy Pig, but Madame Gazelle?!)–but come on, grown-ups, this show isn't for you. You could have your phone out reading Twitter the whole time and nobody would notice.
So, then, the question is: *do* the children like it? My brief survey of the children around me revealed that, by and large, yes, they did. The little girl in front of us who stared unnervingly at us during the intermission murmured that it was "so cool." The child to my right glared at me in silent derision when I asked her if she was enjoying it, but you better bet her demeanor changed when Daisy got her clapping different rhythms.
In my own group, my 4yo companion said he loved "all of it," but the 6-and-three-quarters-year-old young lady was less impressed, saying "I don't really like Peppa Pig, and it should have been more adventurous." Don't feel bad, Peppa: even Arthur Miller faced a certain amount of audience hostility. For the under-fives, you can't go wrong with Peppa Pig's Adventure, and it is on their behalf that I give it 5 stars.