Let's start with a statement of fact. Dolly Parton is wonderful. She may well be the nicest celebrity who ever lived. The absolute undisputed Queen of Country music, a businesswoman par excellence and a book sharing philanthropist. There's no one quite like her.
I've got some history with Dolly too after seeing her live on stage and then flying off to the Great Smokey Mountains of Tennessee to visit the incredible Dollywood theme park. And yes I do regularly pour tea into a Dolly Parton 'I Will Always Love You' Dollywood souvenir mug. What are you going to do about it?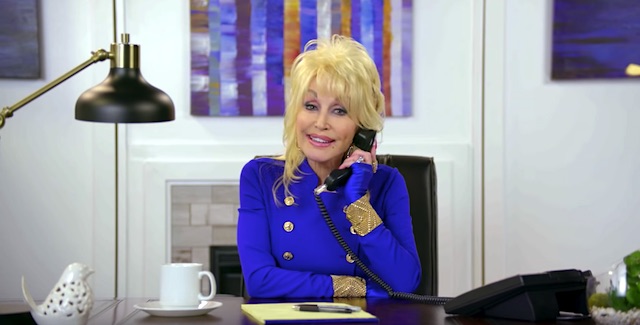 9 to 5 is one of her great triumphs. Not just a great song, in itself, but also a classic film. Now the stage musical of the film has made its way to London, over ten years since it started out in Los Angeles. It moved to Broadway where the box office underwhelmed and had a UK regional tour in 2012. For the West End debut, the people behind the show have pulled out all the stops to make the UK run a success, both at the Savoy Theatre and on the UK tour which is starting in September 2019.
One curiosity of 9 to 5 is that the original film only had one song – the legendary theme tune. The rest of it was a comedy movie about a workplace. For this stage musical the producers had two options. They could dig into Dolly's enormous back catalog to pad it out. Or Dolly could write some new tunes to fit the story scenarios. For the most part, the music is a collection of new Dolly songs written specifically for this production.
I wonder if somewhere at Dolly HQ, maybe even with Dolly herself, there's a plan for a full 'Dolly The Musical' where you get an 'I Will Always Love You' when she meets her husband and an 'Islands in the Stream' when she meets Kenny Rogers. Not forgetting a 'Coat of Many Colours' when young Dolly goes to school and a 'Jolene' when, well, I don't know. Maybe she meets a Jolene? If that is the plan it makes sense to hold them back for that future show. (If it's not the plan and I've just come up with it, then I am willing to work for Dolly to develop the new show).
There's one autobiographical Dolly tune in here when we get a rendition of 'Backwoods Barbie' from Doralee, the character that Dolly played in the movie. This song is lovely, one that Dolly went on to record in her own right. The rest of the songs in this show are a mix of Broadway and Dolly. Two great ingredients that mostly combine well together.
Sometimes dialogue written for the screen can struggle slightly when it's reproduced on stage. There's an element of that here where some of the spoken bits feel a little flat compared to the singing bits. What lifts it all, though, is the cast. They are sensational.
If you wanted a rock-solid group of West End performers this is pretty much the group you would cast. The three main characters are Caroline Sheen as Violet, Amber Davies as Judy, and Natalie McQueen as Doralee. Backed up by two West End legends, Bonnie Langford as Roz and Brian Conley as the evil boss Franklin Hart Jr.
Bonnie is, of course, amazing. She basically always is. If you're doing a show anywhere and you want 'rock solid stage trouper who can sing and dance and act' why go beyond Bonnie? The same is true, perhaps to the surprise of some, of Brian Conley. After years on TV, it's easy to overlook all he's done on stage. And he certainly gets to do a lot on this stage. Nobody who sees the show will forget the sight of him at the end of Act One.
Caroline Sheen deserves a special mention. Her run in this show has just ended after being drafted in at very short notice to take over from the injured Louise Redknapp. She's fantastic. In years to come, there's a good chance she could follow in the Langford footsteps as there's really nothing she can't do. Sheen really puts a sheen on this show.
This version makes clever use of the real Dolly in video clips. The stage set is also a triumph. Look carefully at how the Art Deco of the beautiful Savoy Theatre merges into a collection of clunky 1980s computers. If you want a fun night out after work, it's hard to go wrong with this musical about work.
London and touring ticket details here:
(And yes that is me with the cast in this photo).