Fatty Fat Fat is a show written by and starring Katie Greenall and producing alongside Daisy Hale. The production includes dance, movement, a mini game show, audience participation through crisp eating, a ballet dance and a member of the audience becoming a cast member. It's subject matter is how difficult it is to live in a body society tells you to hate.
Fat as we know is a descriptive word, a statement about someone's physical appearance. However if the word fat is used to describe you it is generally seen as an insult, a shame filled thing. It is a word which "fizzes on my tongue like a palma violet" Greenall tells us.
She explains how this show is partly a personal attempt to reclaim the word. She states that she does not represent or speak on behalf of all fat people, this show is very much her story.
There are a lot of "Tunes" in Fatty Fat Fat.They are interspersed between tales of Katie's lived experience, offering the audience a chance to process what she is sharing with them, they also prevent the show from becoming self pitying, adding a note of defiance.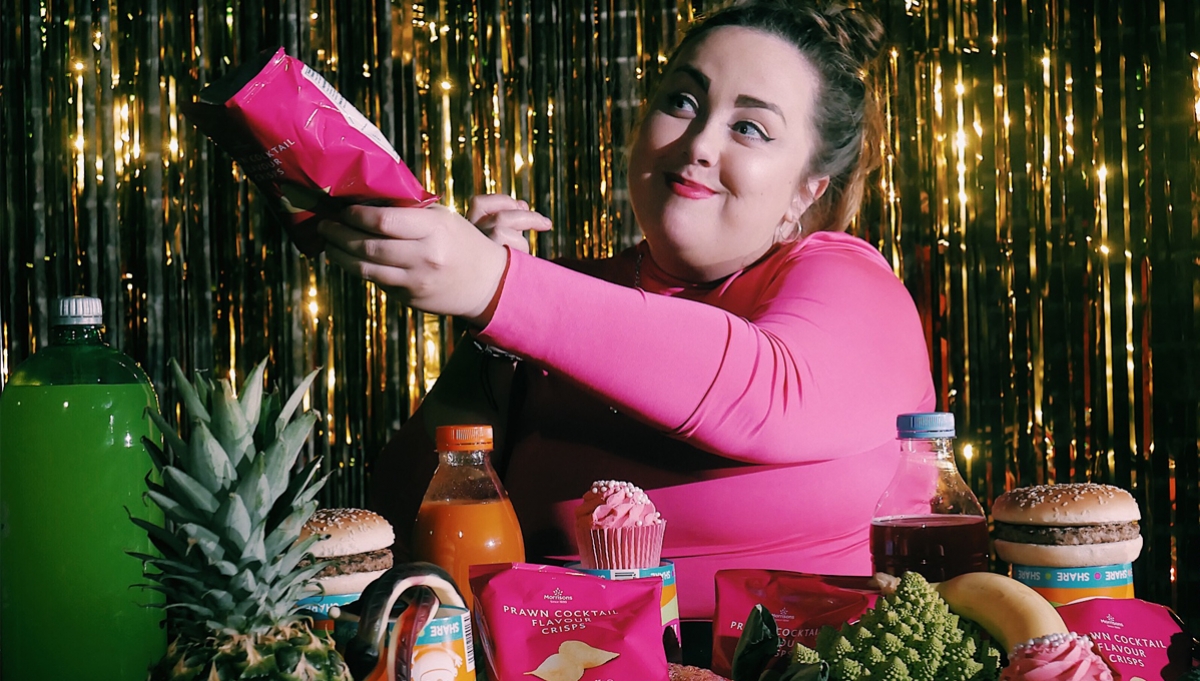 The tales of Katie's mother, dressing her up as the fat controller for world book day, placing weighing scales outside her bedroom door and persuading her to 'exercise' at the age of 9 are alarming to an outsider, but Greenall kindly reminds us that her mother "is trying her best".
A story of a drunken kiss on a night out in her teens has a particularly grisly and upsetting end.
Greenall deftly interweaves tales of hilarity & sadness, the former making the latter all the more hard hitting. A tale of a tupperware thief she mistakenly assumes is a fat shamer is an unexpectedly batty bit of light relief.
At one point Greenall does a ballet dance (to Dance of the Sugar Plum Fairy) while attempting to get into jeans too small for her, bending, stretching, tip-toeing and leaping her way into them in perfect time with the music- it's a stroke of genius, and I will definitely think of it the next time I enter a changing room.
There is a section based around the old game show "the price is right" (re-christened "the size is right") and a full performer and audience game of "never have I ever" which starts off rather amusingly and progressively gets darker and darker.
Katie Greenall performs the show with such honesty, vulnerability and humour you are rooting for her throughout.
The show asks the audience how much society should be allowed to intrude on an individuals autonomy, challenging the condescension of people who feel the need to 'help' by suggesting diet clubs or exercise regimes.
The shows Edinburgh run at the Pleasance Courtyard is something to look out for.
Fatty Fat Fat by Katie Greenall
The Attic, Pleasance Courtyard, 60 Pleasance, EH8 9TJ
3.15pm (60 mins)
Previews: 31 July – 2 Aug, £6
3 – 26 August (not 13), £7-£10
For tickets; www.pleasance.co.uk