Three sky chefs prepare a five-course tasting menu on board the final flight of an Airbus A380.Ingredients mix, tastes cross-pollinate, and strangers break bread together as the chefs guide you through a British-inspired culinary journey.As the story hurtles towards London, on the ground at Heathrow, border control is on high alert.Gastronomic reveals the blueprints of the worlds' best chefs and celebrates the importance of eating together.
Gastronomic from curious directive is a tale of food; British food, food bringing people together whether it is the chefs on board who are lovers, the passengers mingling together and what happens when borders tear us apart.
What makes this more than a play is the seven course tasting menu, the menu is kept secret until the night though details of allergens in this pescatarian menu are available in advance.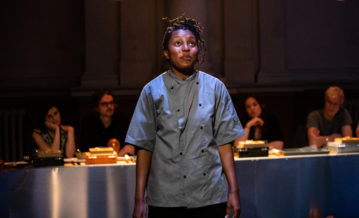 I love food more than theatre and the quality of the food, to me, was more important than the story. At £27.50 ( most immersive dining experiences are around £35-55) this menu is a bargain and fits well with the script. The problem is that despite an engaging story I was looking towards the door for my next bite. The moment you bring food into a performance it becomes the star and at only 70 minutes the courses come thick and fast. Nora (Georgina Strawson), a Dutch head chef invites you to try her menu "Green and Pleasant Landing" on a flight from Beirut to London. Initially her menu seems a cynical attempt to keep with airline happy with dishes titled "End of Brighton Pier" but which are based around her experiences of love and grief. Along with her fellow chefs Luca (Craig Hamilton) and Agat (Ani Nelson) the story intecuts with Luca's life in Lebanon and the border control who have heard reports of suspicious man on board.
Whilst the story is well performed and engaging with cast handing out food and even assisting an audience member with his headphones there were distractions other than food, such as the Argumented Reality section which I am not sure didn't work due to technical issues or just didn't work as a concept, it felt disjointed and was a waste of ipads, which I wish had shown what was happening on the screens above the stage. It is also isn't an immersive experience; there is some audience interaction, the audience should be immersed in the food but I didn't feel like I was necessary to the performance. Immersive should work around its audience and if you are a fan of immersive productions such as Dinner is Coming or Gingerline's recent productions then you might feel surplus to requirements.
The story was much better when it kept it traditional, with flashbacks to romantic trips away, the use of the conveyor belt to delivery audience food and a story about identity and the comfort food can bring; whether making it, eating it, enjoying it or not enjoying it.
Craig Hamilton shines as Luca, a skilled pastry chef who seems distracted and inexperienced on his first flight. There is nice chemistry between Strawson and Nelson, whose work brings them together but also could tear them apart.
Curious Directive have managed to combine beautifully presented and made food from Head Chef Clyde Ngounou, Sous Chef Daniel Spirling and the Trainee Chefs from the Blue Marble Training programme, which feels high end without prentention. This show is traditional with nice twists; the LGBT+ relationships are done with heart and feels authentic and it is a shame that the technology was so clumsy because this is a sensory experience with its roots in traditional and strong theatre
Gastronomic is on until 12 October 2019 https://shoreditchtownhall.com/whats-on/gastronomic
This show was purchased for £27.50