There was a time when people in London used to look down on Vauxhall. Having one of London's best bus interchanges wasn't enough for the naysayers. But look at it now. Vauxhall is emerging as a hub of London's post-Covid 'night out' recovery. There's the huge Vauxhall beer garden under the railway arches, a bunch of places next to the river, and now a theatre in the backyard of the Eagle pub. 

Admittedly it's not the London Palladium. There's no plush red velvet covered seats or royal boxes. But there's an excellent range of interval ice creams and a great new space under a tent that seats about fifty people. Temperature checks on arrival, hand sanitisers, laminated cast lists, and social distance between audience members are all in place. Drinks are served to you, with no need to queue for ages at a West End style interval bar. Of course you do need to learn the etiquette of how to pull down your mask to take a sip of drink and put it back on, but we will get there over time. And the staff are all super friendly and delighted to see you.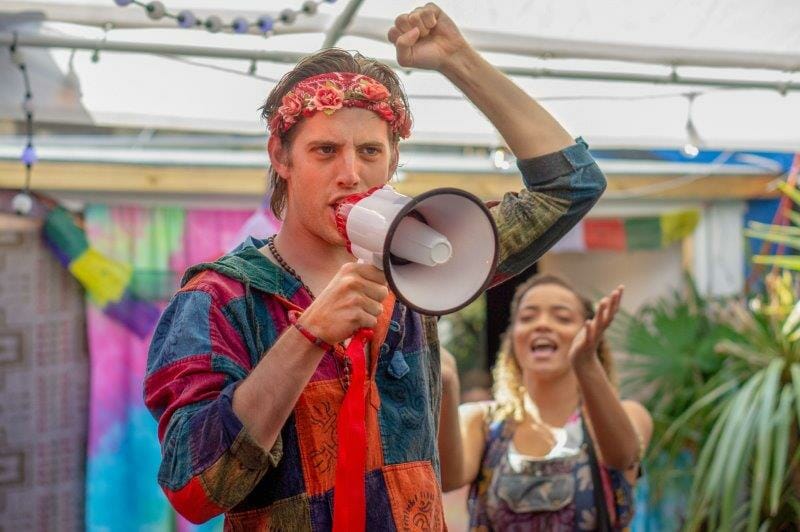 Outdoor theatre at the Eagle pub kicked off with a month long August run of Fanny and Stella. For September and much of October there is a musical revival of Pippin. A show with two big Tony Award winning outings, in 1972 and again in 2013, it has only had one brief West End run, which sounded like a bit of a flop. The show itself has some real Broadway royalty behind it. Stephen Schwartz, best known now for Wicked, did the music and lyrics and the original director was Bob Fosse.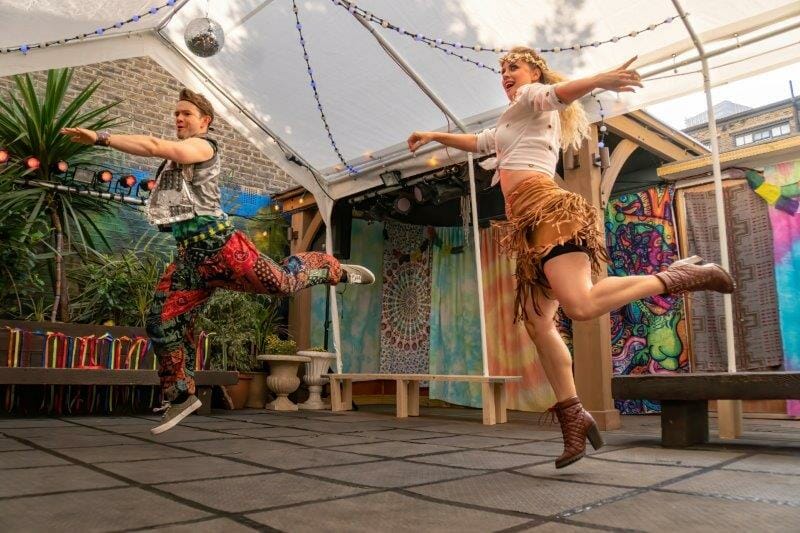 For musical lovers there's some great tunes in this show, and in a huge Broadway theatre with a full orchestra they would sound spectacular. The big question was whether that big sound translates to an outdoor space on the edge of the Vauxhall one way system. The answer is a resounding yes. Legendary West End casting director, Anne Vosser, managed to find six great performers who are literally in touching distance of the audience – not that any of the audience would dare to touch anyone, this is 2020 after all… 

The title role of Pippin is played by Ryan Anderson, but it is very much an ensemble with everyone getting at least one song to shine on. Tsemaye Bob-Egbe, Tanisha-Mae Brown, Harry Francis, Dan Krikler, and Joanne Clifton are the other cast members, with Clifton, in particular, a revelation.  Famous for winning Strictly with Ore Oduba four years ago, it goes without saying that she can dance. But she can act too. And sing. And has brilliant comic timing, particularly at one point when she hobbles on stage playing an old woman. 
The story itself is a fictionalised piece set in the court of King Charlemagne who, famously, laid the foundations of the Holy Roman Empire that was neither Holy nor Roman nor an Empire. Fair to say the King, played by Dan Kirkler, was not a benevolent man, and his son, Pippin was much more of a free spirit. Maybe even an early version of a hippy, but with shorter hair. For six players and a tiny orchestra to retell the story of the King and his son at the back of a pub is quite an achievement. Huge credit to Stephen Dexter and Nick Winston who made it happen.
I've missed theatre a lot, during the strange months since the lights went out in March. Any effort to get actors working again and musicians playing again and directors directing again is to be applauded. The outdoor theatre experiment is a bold one, but ticket sales seem to be good and it has to be hoped the space can be used even during the winter. Who wouldn't want to see a bit of Window Twanky action in the back of The Eagle?  
Pippin is a lovely show that offers an uplifting night out in a new setting. There's probably a message for these times from the audience singalong element of the night: 
Oh, it's time to start living.Time to take a little, From the world that we're given.Time to take time, For spring will turn to fall, In just no time at all… 
@Matthew Lumby
For more details of the show: http://pippinmusical.co.uk/
To buy tickets: https://www.ticketsource.co.uk/pippinmusical/e-lrjmzd