Review by 
Esmee West- Agboola
The timeless classic, Leave Taking by Winsome Pinnock, revived at the Bush Theatre is a marriage of captivating performance and unapologetic text, at a time when it couldn't be more relevant.
The narrative follows the relationship of Enid (Sarah Niles) and her two daughters Del (Seraphina Beh) and Viv (Nicholle Cherrie). The audience witness their navigation of first and second generation, cross-cultural identity in westernised England.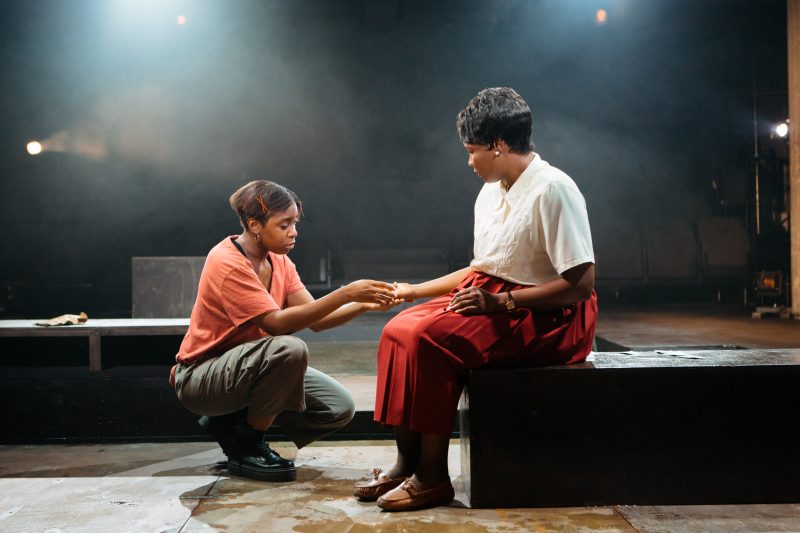 Madani Younis' direction facilitates a seamless comic timing to the text. This, boldly underpinned by an exploration of the complex realities of black womanhood and cross-cultural heritage. Pinnock's close interrogation of what it means to belong becomes particularly visible in the second act, where a more reflective tone reaffirms the importance and relevance of this story, in light of the recent Windrush saga.
What makes this play compelling, is the inclusion of multiple female perspectives, channelled through the characterisation of the cast. Sarah Niles' dynamic performance displays the emotional unfolding of an initially concealed Enid. This, matched with the equally electric energy of fellow protagonists, reinforces the great impact of Pinnock's writing.
The Bush Theatre proves the perfect venue to programme Leave Taking. The play itself is performed in the round enabling the energetic, intimate atmosphere that Younis' direction demands. There is, at times, a feeling that we as the audience are a part of the scene itself, given the half dimmed light in the auditorium complimentary to plainness of the set. This facilitates a more shared, immersed and communal experience in our witnessing. Arguably, only achieved by a venue as aware and responsive to audience experience as the Bush.
Leave Taking is on until 30 June. Tickets from £10