The home of the ENO was the backdrop to this launch of Michael Linnit and Michael Grade's latest April/May musical, Man of La Mancha, a play within a play about Don Quixote (As an aside RSC recently produced Don Quixote play) To bring it to the stage has taken over 20 years as Linnit battled the creators' widows to bring the production to London.
On 26 April, for a limited 6 week run, it arrives with the star casting of Kelsey Grammar, who recently appeared in Big Fish at the Other Palace and Candide in New York, Nicholas Lyndhurst who appeared in Linnott and Grade's Carousel, directed by Lonny Price with Cassidy Janson (Chess) and Danielle De Niese, known for her soprano roles in opera sharing the role as De Niese appears in Fiona Shaw's Cendrillon at Glyndebourne.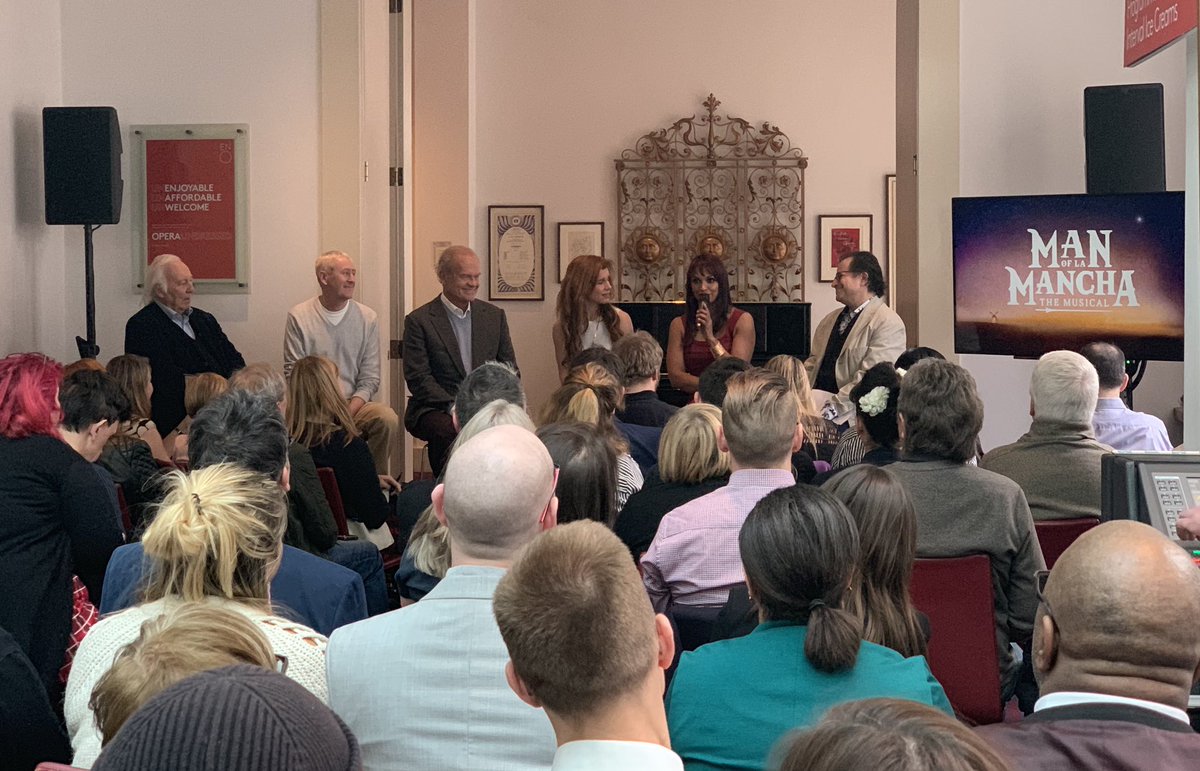 It is De Niese's commitment to this musical (despite the unreliability of Southern Trains and her Glyndebourne commitments) might be one of the musical's biggest selling points. Juggling two productions is no easy feat and ensuring two talents of Janson and De Niese can share the role ensures audiences are guaranteed an opportunity to see a fantastic female vocalist in the role of Aldoza and Dulcinea.
Audiences don't have another recent West End production to compare it to (the last was in 1968 and set a young Linnott on a path of bringing it back) but it's signature number 'The Impossible Dream' is familiar to many audiences and for many, this could be an advantage or disadvantage. There are many audiences who have been waiting for this for many years but it lacks the familiarity of Chess and Carousel, which have recently taken the April-May ENO season spot.
The cast is clearly enthusiastic about this production, Lyndhurst has worked with acclaimed director Lonny Price at the Coliseum for Carousel and the venue clearly means a lot to him, having avoided musicals for the majority of his career he seems to have embraced them at the Coliseum and Grammar is enjoying his opportunities to work in musical theatre. Both Grammar and Lyndhurst come from sitcoms about brothers, though Grammar failed to see David Hyde Pierce in Hello Dolly due to the high ticket prices. Grammar is also looking to move out of musical theatre with aims to do King Lear within the next decade "though knows the British are fussy about their Shakespeare"
Janson and De Niese are a real coup, great vocalists who will embrace the cavernous space of the Coliseum and De Niese as an opera singer seems to appreciate that the vocal differences in musical theatre and opera and I think she could bring a really interesting vocal interpretation to this production. Linnit teased that casting is yet to be completed but with its impressive announced casting, its incredible venue and trusted production crew I think this could be one of 2019's hottest tickets.
https://www.eno.org/whats-on/man-of-la-mancha/?action=book