Part monologue/part stand-up, James McNicholas's reassures early on that this is not a play. McNicholas presents the unbelievable story of his late grandfather, Terry Downes, who was once Heavyweight champion of the world and the unbelievable story of James McNicholas as he struggles with trying to find success as an actor and a mystery illness.
Downes' talent as a boxer takes him across the Atlantic, after beginning as an amateur boxer in the US Marines he is refused citizenship and a chance to box in the Melbourne Olympics so he turns pro in the UK. McNicholas' compares his grandfather's story to all the boxing film greats, Rocky (all of them), Creed, Million Dollar Baby etc and asks why boxing films remain the most popular sport film genre despite all of them having the same storyline; The promise, the rise, the fall and then the rise again.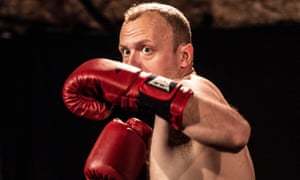 McNicholas is not a boxer, his acting has taken him to be the face of TUC biscuit adverts in Belgium though. He finds humour in his privilege set in motion by the sacrifices his grandfather made. His portrayal of Downes is affectionate, building up the comedy of a streetwise man who had the sense to retire at 28, act in films (including being directed by Polanski) before his death in 2017. McNicholas' attempts to find similarities with his grandfather include taking up boxing and it is Downes' wife and McNicholas' grandmother Barbara who reminds James that he doesn't have to throw a single punch to be like Terry.
I found it very moving, (being sat next to Terry's son helped) McNicholas manages to seem comfortable in both guises and has found humour in his problems if not a solution. It is well researched and remains a fun show combing the best of stand up and monologue.
The Boxer continues at Soho Theatre 19-29 February 2020 https://sohotheatre.com/shows/james-mcnicholas-the-boxer/